Our Company History & Founding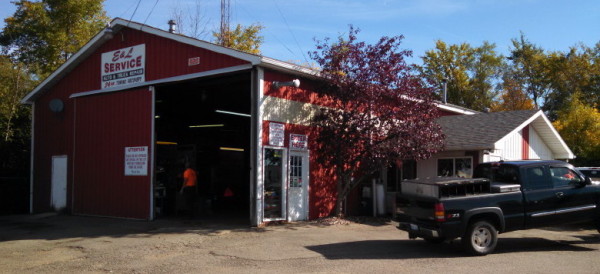 How We Got Our Start in Auto Repair & Towing
The company history & founding of E & L Service Inc. started in the late 1960's with Earnest and Lucille Ridge. They purchased a Gulf gas station franchise on 9 mile and Ryan Rd. in Warren Michigan.
By 1974 they moved their residence to Lapeer Michigan. Tired of the commute to Warren everyday, Earnest and Lucille sold the Gulf station and purchased George and Bernie's Boron station here in Lapeer on the corner of M-24 and DeMille Rd. (where CMS now sits). The name was changed to E & L Boron. E & L Boron was a gas station and two-bay service station with seven tow trucks servicing Lapeer and the surrounding area.
In 1980, the current building was constructed and E & L was moved to 920 DeMille Rd. and became E & L Service Inc., Towing and Repair. By 1988, Earnest and Lucille were tiring of the 24 hours 7 days per week grind and asked their grandson Ron McDougall if he would be interested in purchasing the business. Ron had worked for E & L Service off and on during breaks from classes at Ferris State University where Ron is a graduate of the Heavy Equipment Technology Course.
In purchasing the business in 1991, Ron McDougall entered an agreement to purchase E & L Service Inc. and became the company President. Ron is a member of the Michigan Towing Association where he was an active Board of Director for over four years. Ron also is a Lapeer Optimist member as-well-as an Alumni of Delta Sigma Phi Fraternity, Delta Tau Chapter.
In November of 2013 Marty Tompkins became a stock holder and Vice President of E & L Service Inc. Marty (tow truck) Tompkins is very well known in the community with having extensive experience in the towing industry since the late 1980's. Marty is well versed in all aspects of towing from light duty towing to heavy duty towing and recovery work. Marty is a Wreckmaster certified operator and with his experience from farming, towing and trucking have proved to be a great asset to E & L Service Inc.
E & L Service has a long standing relationship in this community as Lapeer's Finest and will continue to strive for that goal.